Quickly review what matters most of your digital ticket while decluttering your screen by showing/hiding other details.
Last Updated: 09/21/2021
Overview:
Review digital ticket data clutter-free with the ability to show/hide e-Ticket details by sections.
---

View Transportation History
A horizontal bar located at the top of the screen tracks load status from Ticketed, In Transit, to Delivered. You can also review ticket number and timestamps.

---
Find Raw Ticket Data
This section is hidden by default to declutter your view.
Select Show raw ticket data to quickly review in-depth ticket details.
When expanded you can view all of the load details like originating plant, truck number, product, weight and much more.

---
DOT Inspector Review

Select Inspector Review to quickly review DOT activity.
DOT inspectors easily add/edit plant temperature, field temperature readings, waste, field notes in addition to digitally sign delivered loads.
This section can be hidden to declutter your view.

---
Contractor Review

Select Contractor Review to quickly review onsite activity.
View the digital signature of the onsite contractor who accepted the load and marked the ticket delivered.
This section can be hidden to declutter your view.

---
Desktop View

A very similar experience is available on a desktop device.
Select a ticket to view in-depth raw data from the right hand pane.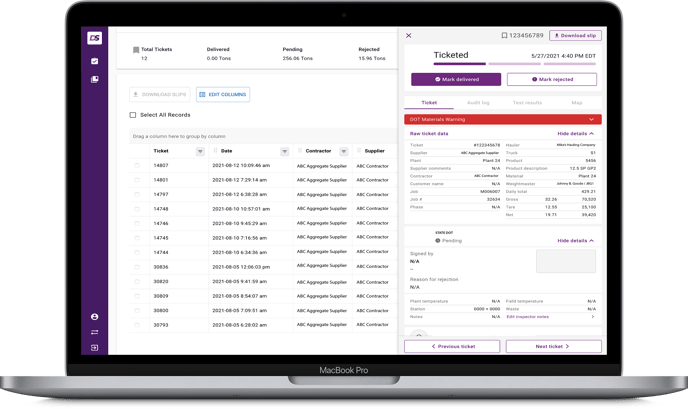 ---
Still Need Help?
If you have any more questions feel free to reach out to our support team.