As a contractor out in the field you may sign a driver out of a job with just a few taps.
Last Updated: 03/10/2021

Overview:
Sign out drivers on the job in the HaulHub Field App, by selecting the job and driver.
You must have the HaulHub Field app installed on your mobile device.
Use the same login info on the app as you do on web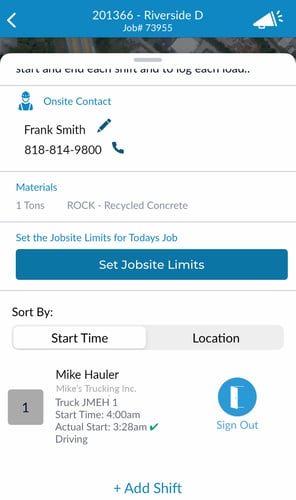 Step 1
On your mobile device, log in to the HaulHub Field App.


Step 2
Select the job you need to sign the driver out of and swipe up to view the list of drivers.


Step 3
Tap the Sign Out button



Step 4
Review the mobile time card and make any adjustments necessary.
Any slips or adjustments missed in this step can still be reviewed and adjusted later either on the app or website under Job Management > Timesheets.
Tap Submit when complete.
The driver will receive a text message notification that he has been signed out.












---
Still Need Help?
If you have any more questions feel free to reach out to our support team.