Manage your projects and e-tickets even in no cell coverage areas.
Last Updated: 10/05/2021
Overview:
Continue managing e-Tickets within your projects even with no internet access. Log new tickets, plant/site temperatures, and inspection notes while having ticket data synced back to the cloud once a connection is re-established.
---

Identify You're Offline
You will see a red cloud icon at the top left hand corner identifying that no connection is established. Also, a horizontal banner labeled "No reports available. You are offline." located at the top of the screen replaces the space where clipboard reports would be.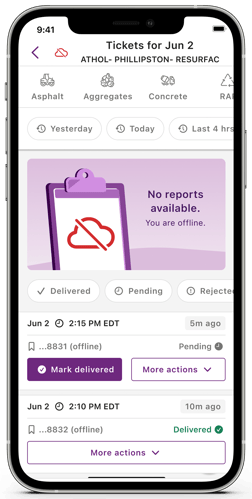 ---
Log New Tickets
Any ticket activity you add while offline can be reviewed and updated as required.
The app will automatically sync your notes and activity to the cloud once cell coverage is re-established.
To log a new ticket simply follow the steps below:
Tap the

red ticket button

at the bottom of the screen.
Select your Project Name from the dropdown menu.
Enter the last four digits of the ticket number you're authorizing.
Mark the status of the ticket.

Choose from Pending, Delivered, or Rejected with a reason.
Delivered is selected by default.

Enter any notes for the load of material.

Add Plant and Field Temperatures, Station, Waste and Inspection Notes.

When done tap on the Log Ticket button to save your changes.
---
View Daily Tickets
A Job Card will be created in the Today Tab to quickly view tickets you have logged while offline.
Project material and tonnage benchmarks will be visible once connection is re-established.

---
Chip Filters
Filter functionality in the My Projects Tab is still available while working offline, allowing you to easily filter through ticket data by ticket status (Pending, Delivered, or Waste) or by log time (Yesterday, Today, Last 4 Hours).

---
Frequently Asked Questions
Do I need to do anything else to sync the ticket data back to the cloud?

No. Simply log it and forget it, no additional actions are required. The app will recognize cell coverage is re-established in the background and the information you entered will be synced back to the system.

Is the new

red ticket button

always available?

Yes. Even in full cell coverage you can tap the red button to quickly enter the ticket number and add the appropriate updates. The app will find the ticket for you and update it accordingly.

Can I review or update ticket data later on in the day?

Yes. You can edit, review, and update tickets you add offline at any time.

Can I access tickets I added offline on desktop too?

Yes. Once connection is re-established the app will automatically sync your notes and activity to the cloud making them accessible on desktop as well.
---
Still Need Help?
If you have any more questions feel free to reach out to our support team.