Manage your projects and e-tickets even in no cell coverage areas.
Last Updated: 02/13/2023
Overview:
Continue managing e-Tickets within your projects even with no internet access. Log new tickets, plant/site temperatures, and inspection notes while having ticket data synced back to the cloud once a connection is re-established.
---

Identify You're Offline
When the user is in an area without coverage, the icon in the middle of your today page will turn red and an indicator shows that service is unavailable. By tapping this red icon, a prompt will appear informing you that you will be logging an offline ticket.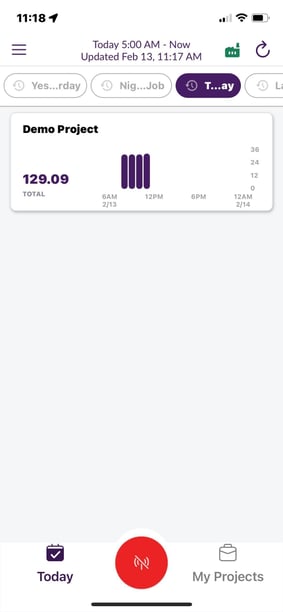 .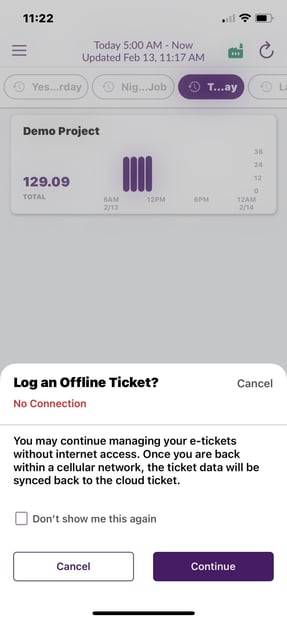 ---
Managing Your Tickets
Within managing your tickets, you will have three categories displaying statuses of offline tickets.
Create New will allow you to enter information and log tickets. select the project from the drop menu, enter the last four digits, the ticket status, and any other information relating to this ticket. Tap Create Ticket at the bottom of the page to log this ticket. You can continue to log tickets from this screen until the end of your shift. If you need to reference a previously logged offline ticket you can go to the project page and view a preview of the ticket.
Pending Tickets tab contains a list of the tickets created in offline mode that were not able to be matched. These tickets will remain as pending until the automatic sync tries to see if there is a match within Haulhub. This occurs every 6 hours (6am, noon, 6pm, or midnight) or you can choose to manually sync by tapping the icon in the lower right corner.
If no match is found for the ticket after syncing occurred, this means the user either incorrectly keyed the last four digits of the ticket number, selected an incorrect project number or the ticket from the supplier was not received by the HaulHub server. A red x means there are unmatched tickets that will attempt to match on the next sync.
Sent Tickets lists the loads that have synced to the server and match the tickets from the loadout systems. A yellow circle with a check mark means there is a partial match, some tickets are still pending, and some have matched, a green circle w a check mark means all offline logged tickets have found their match.
---
Still Need Help?
If you have any more questions feel free to reach out to our support team.